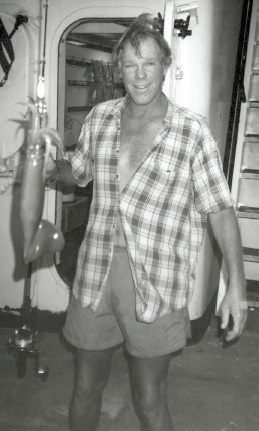 Larry Spear received his BS, with Honors, from the Department of Wildlife & Fisheries Biology, University of California, Davis, in 1978; and his MS in Marine Science, Moss Landing Marine Laboratories, in 1986. The latter required him living in his car for three years, traveling up and down the West Coast from Seattle to San Diego, stopping at all the fish-processing plants, dumps, and river mouths, and keeping track of two cohorts of Western Gulls that he had banded as chicks on the Farallones. His thesis, "Dispersal in the Western Gull," was published in The Auk. He went on to write 11 papers about Western gull life-history strategies, from hatching to senescence, published in The Auk (3X), Journal of Animal Ecology (2X), Studies in Avian Biology, The Condor and elsewhere. His piece in Natural History Magazine, about how a Halloween mask can fool gulls into misidentifying humans, was recognized by the magazine as the article of the decade.
He then set out to understand the at-sea ecology of seabirds. He pioneered the correction of 'flux,' whereby the speed and direction of a bird relative to the speed and direction of the research platform, transforms what we perceive as bird 'density.' He developed the only existing technique to accurately determine the population size of burrow-nesting species (published in Journal of Applied Ecology) from at sea data.
Perhaps his greatest contribution is a series of papers, 33 thus far, was his investigation of the at-sea biology of seabirds, including those of the Southern Ocean and the Eastern tropical Pacific. Within that body of work he showed convincingly that, indeed, many seabirds do feed at night; rediscovered the thought-to-be extinct Fregetta grallaria titan subspecies of White-bellied Storm-Petrel; showed that eating plastic does negatively affect seabird well-being; discovered mimicry in Kermadec Petrels that was of a form not yet described in vertebrates; revealed how morphological differences between polar and tropical seabirds related to their respective windfields; described the Pacific-basin-wide migration of Sooty Shearwaters, now confirmed by satellite telemetry; and estimated the true population of the Hawaiian Petrel, much higher than thought at the time – but now confirmed by the discovery of new nesting populations. Since his death two monographs of his have been published, one on the diet of an entire mid-ocean seabird fauna, and the other on the at-sea biology of storm-petrels of the eastern Pacific.
Larry's legacy also lives on in museum collections; he was a master taxidermist whose study skins with their associated data continue to make significant contributions to our knowledge of seabirds.
In recognition of a passionate scientist whose unstinting focus on solving unanswered questions about seabirds led to many profound discoveries, the Pacific Seabird Group honors Larry Spear posthumously with a Lifetime Achievement Award.