PSG supports Early Career Scientist members and offers resources, events, and volunteer opportunities!  PSG encourages Early Career Scientists to learn more about the society and become an active member by volunteering for an annual meeting, joining a committee, or volunteering for the Executive Council positions. See below for Early Career Scientist events!
Early Career Scientist Resources
The transition from student to salary-earner can be challenging. We asked long-time PSG members some of their strategies to ease this transition and they said, in addition to becoming a member of PSG:
Early Career Scientist Volunteer Opportunities
PSG is always seeking early career scientists to assist with the Annual Meeting, including organizing the Annual Meeting Welcome Night, pub crawl, Conservation Meeting and Members' Meeting. Early career scientists have donated their time to design the cover of the Annual Meeting booklet and their connections have contributed to Annual Meeting sponsorships, including items donated to the PSG Silent Auction, which funds student travel awards.
Throughout the year, PSG offers the opportunity for early career scientists to volunteer with the publication of Pacific Seabirds, by assisting with PSG social media accounts, and through PSG's committees.
Ready to dive in? Contact the PSG Early Career Scientist Liaison: info@pacificseabirdgroup.org.
Looking for additional ways to volunteer? See volunteering.
Early Career Scientist Events
Are you interested in convening the next early career scientist event? Contact the Early Career Scientist Liaison: info@pacificseabirdgroup.org to host or attend, in-person or online!
Interview with a PSG Early Career Scientist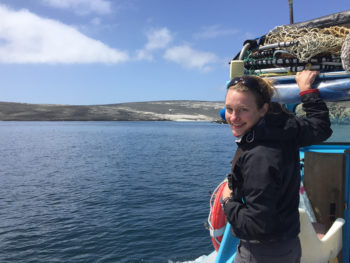 How did you hear about the Pacific Seabird Group (PSG)?
From my undergraduate advisor, who urged me to present my thesis work at the 2010 PSG Annual Meeting in Long Beach, California. It was my first professional conference and I was so intimidated, but everyone was so welcoming and I had a great time.
How did you transition from your Masters of Science (MS) to USGS?
Through a lucky chain of events! I was looking for a job and my current boss had work that needed to be done. My CV mentioned my work experience with some of his favorite species, Pink-footed Shearwater and Cassin's Auklet. I think it was those birds that really caught his attention.
So, the birds made it happen?