2018 ANNUAL MEETING
Pacific Seabird Group
45th Annual Meeting
La Paz, Mexico
21-24 Feb 2018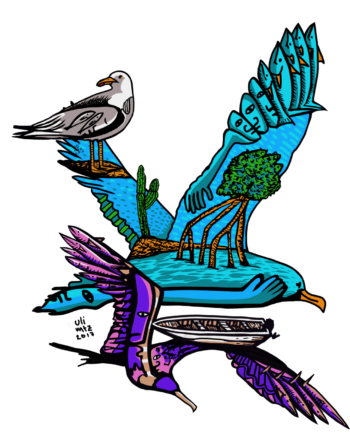 The Pacific Seabird Group is pleased to announce the 45th Annual Meeting to be held at the Universidad Autónoma de Baja California Sur in La Paz, 21-24 Feb 2018.  After 14 years, the PSG Annual Meeting is back in Mexico! The Universidad Autónoma de Baja California Sur will be the venue for this exciting event. Located in the entrance of the Gulf of California (nicknamed the "aquarium of the world") La Paz is ideal for the academic activities as well as for adventure. International flights arrive to Los Cabos airport, 190 km from La Paz. There are direct flights from San Diego, Los Angeles, San Jose, Dallas, Phoenix, San Francisco among others. From there a shuttle or bus ride takes about two hours to get to La Paz. The hotel for the conference is Hotel Perla, and attendees receive special rates. Book early to take advantage of the savings.  From the conference hotel, buses and vans will transport people to the University. On the exploring side, you can swim with whale sharks just a few minutes off the malecón, you can take daytrips to Espiritu Santo Island or hike in the Sierra La Laguna to observe some endemic species.
Registration, abstract submission and travel award applications now open!   Please click here for the "new" PSG Annual Meeting Event Portal! 
For information on conference hotel, field trips, and volunteer opportunities, click here.  Please check back for updates. Call for proposals is now closed. 
Local Committee Co-Chairs
Yuri Albores Barajas, Cecilia Soldatini, Horacio de la Cueva (CICESE)
Roberto Carmona, Sergio Flores (UABCS)
Mónica Treviño (COSCYT)
For questions, please email: locochair@pacificseabirdgroup.org
Scientific Program Chair
Dr. Adrian Gall (ABR, Inc)
For questions , please email: programchair@pacificseabirdgroup.org
Draft Meeting Schedule
Wed 21 February 2018
Pre-conference Meetings
Welcome Reception
Thu 22 February 2018
Scientific Program, Meetings
Poster Reception
Fri 23 February 2018
Scientific Program, Meetings
Beach party
Sat 24 February 2018
Scientific Program
Banquet & Awards Ceremony
Download the Draft 2018 Meeting Announcement here!