Pacific Seabird Group
42nd Annual Meeting: A Future for Seabirds

San Jose, CA
18-21 February 2015

Program Chair: Kathy Kuletz
---
PSG 2015 Annual Meeting Supporters
PSG appreciates the generous donations by the following sponsors: American Bird Conservancy, California Marine Sanctuary Association, HT Harvey, Monterey Bay Sanctuary Foundation, Birdsmith International, Don Edwards San Francsico Bay National Wildlife Refuge, Audubon California, Pt. Reyes National Seashore, by Lagunitas Brewing Company to support the conference and Student Silent Auction.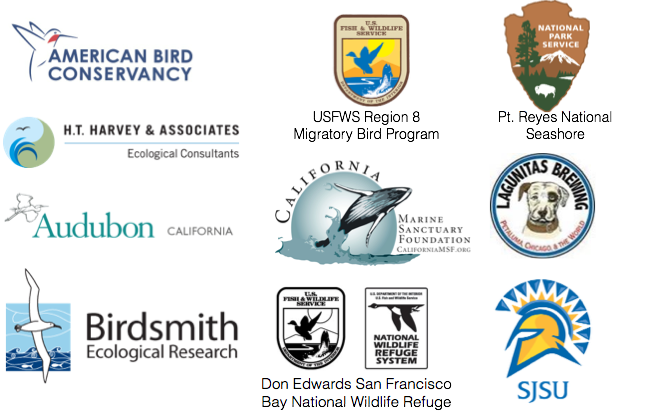 ---
Program & Daily Schedule of Talks
We have a great variety of talks over three days, with at least two, and sometimes three concurrent sessions. For the program overview, daily schedule of talks, and list of poster presentations, please click here.

We appreciate those of you willing to present your work, especially the many students who are giving their first (or second) presentation of their newly minted life's work. It bodes well for A Future for Seabirds to have so many student and early career scientists!
Need some guidance on preparation of your presentation or poster? CLICK HERE!
---
BOOK of ABSTRACTS for 2015 PSG program online - click here
PSG 2015 Annual Meeting Schedule available - click here
Instructions for Session Chairs - click here

Special Paper Sessions (SPS): For 2015 we have four exciting and timely Special Paper Sessions.

SPS 1: Can seabirds be used to predict impending climatic events in the Pacific?
Lead Convener: Grant Humphries (humphries.grant@gmail.com)

SPS X: Merging seabird and fisheries data to track marine ecosystem processes and fluctuations: This is no longer a special paper session, but has been combined with the general session titled 'Seabird-Fisheries Interactions'

SPS 2: Community-based seabird conservation
Lead Convener: Peter Hodum (peter@oikonos.org)

SPS 3: Ashy Storm-Petrel Rangewide Science and Conservation
Lead Convener: David Ainley (dainley@penguinscience.com)

SPS 4: Shearwaters forever or cause for concern? The conservation and status of shearwaters
Lead Convener: Mark Rauzon (mrauzon@peralta.edu)
---
PSG 42nd Annual Meeting Logo Gear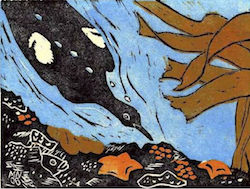 Get your PSG merchandise! Cool shirts and pint glases with the PSG 2015 Logo are available for purchase. Order all items through your RegOnline account or at the PSG meeting. Supplies are limited so don't miss out! To see the designs, click here.
---
Click here to access RegOnLine (www.regonline.com/psg2015).

Please register as soon as possible to assist the Local Committee Chair with planning for the event. The conference will be held at the San Jose Airport Garden Hotel, a convenient location to restaurants, coffee shops, light rail, and the San Jose International airport.
| | | |
| --- | --- | --- |
| Registration rate (US$) | Early bird | Late registration |
| Member | 285 | 335 |
| Student member | 155 | 205 |
| Non-member | 330 | 380 |
| Student non-member | 180 | 230 |
| Day rate | 130 | 180 |
---
Room blocks at a special rate are being held until: 02 February 2015.

San Jose Airport Garden Hotel
Located in the heart of San Jose near the intersection of Hwy 101 and 880, this venue is 5-10 minutes from San Jose International Airport (SJC) and is within 10-15 minutes from downtown San Jose via light rail, taxi, or car. More information about the meeting venue can be found at: http://sjcairporthotel.com/?gclid=CJrlu6_2978CFQqGaQodPKwA9w.

Accommodations
Room blocks have been reserved (held until 2 February 2015) for meeting participants at the San Jose Airport Garden Hotel where the meeting venue is located. Please book early to guarantee the PSG room rate ($94/night) and to ensure that you have a room. Make your hotel reservations online here or call (321)-800-7707 and request of the room rate for the Pacific Seabird Group meeting (be sure to mention Pacific Seabird Group to get the special rate). All unreserved rooms will be released on 03 February 2015.

In addition to the San Jose Garden Hotel, there are a number of hotels/motels that vary in price including the Holiday Inn, Fairfield Inn, Double Tree, Vagabond, and Motel 6. In addition to places to stay, there are plenty of food options within walking distance of the San Jose Airport Garden Hotel. This includes sandwiches, chicken, sushi, Thai, steaks, and more. There are three major airports servicing the San Francisco Bay area. The closest airport to the meeting venue is San Jose International (SJC) but you can also fly into San Francisco International (SFO) or Oakland International (OAK) airports. Airline fares differ by airport so it pays to investigate your options. From SFO, your best option if not driving is using CalTrain which takes you to downtown San Jose and then transfer to the VTA light rail (heading north). There is a light rail stop across the street from the meeting venue. From OAK, you can take BART heading south to Fremont and then grab a taxi the rest of the way.
---
We are interested and in need of items for the silent auction. Please consider donating something for the auction that will be held during the meeting venue. For questions, please contact Scott Shaffer (scott.shaffer@sjsu.edu).
---
The San Francisco Bay area has a diversity of habitats including estuarine, coastal, and open ocean. Four fantastic field trips have been organized for meeting participants, starting on 17 February (before the meeting) and concluding on 22 Feb (after the meeting).
All trips will depart from the San Jose Airport Garden Hotel. Costs include applicable entrance fees. No food or drink provided.

The February 22nd pelagic trip is full and both the February 17 and 22 Don Edwards trips are nearly full. If you cannot register for these trips but would like to be put on a waiting list, please send a request to Gerry.McChesney@fws.gov.
1) Tuesday, February 17. Don Edwards San Francisco Bay National Wildlife Refuge and the South Bay Salt Pond Restoration Project: Depart hotel at 10:00 AM, return 3:00 PM. We'll tour the largest wetland restoration project on the U.S. west coast, where former salt evaporation ponds are being converted back to salt marsh and other wetland habitats. The area hosts thousands of migrant and wintering waterfowl, shorebirds, and other waterbirds. Rain may cancel. Cost: Free.
2) Sunday, February 22. Monterey Bay pelagic birding trip (from Monterey). You must make separate reservations for boat trip and transportation to Monterey, if needed. With its huge, deep nearshore canyon and productive upwelling, Monterey Bay is world famous for pelagic seabirding. Long-time Monterey Bay expert Shearwater Journeys will lead our offshore cruise. Possibilities include several species of shearwaters, cormorants, pelicans, alcids, albatrosses, gulls, cetaceans, pinnipeds, sea otters and other species. Boat trip: 8:00 AM – 1:00 PM. Bus transportation to Monterey departs hotel at 6:00 AM, returns about 3:30 PM. Cost: Boat trip only, $110.00; Round-trip transportation to Monterey, $90.00.
3) Sunday, February 22. Santa Cruz coast and Hummingbirds. Departs hotel at 8:00 AM, returns about 2:00 PM. Tour to University of California Santa Cruz Arboretum to view the amazing "colony" of Allen's Hummingbirds, an endemic breeder of coastal California that puts on elaborate courtship flight displays. We'll also visit the nearby Santa Cruz coast to look for coastal seabirds and marine mammals, visit the Santa Cruz Lighthouse and Surfer Museum, check out the surfers and enjoy the scenery. Cost: $91.00.
4) Sunday, February 22. Don Edwards San Francisco Bay National Wildlife Refuge and the South Bay Salt Pond Restoration Project. Depart hotel at 8:00 AM, return 1:00 PM. We'll tour the largest wetland restoration project on the U.S. west coast, where former salt evaporation ponds are being converted back to salt marsh and other wetland habitats. The area hosts thousands of migrant and wintering waterfowl, shorebirds, and other waterbirds. Rain may cancel. Cost: Free.
---
Banquet tickets sold on-line ($70 USD for regular members and $50 USD for students). The banquet is scheduled for 21 February 2015. A limited number of banquet tickets will be available at the registration desk. Please purchase early to assist the Local Committee Chair with planning the event.
---
Application Deadline: Passed
Notifications: 15 December 2014

Scientists from outside North America and students from anywhere are encouraged to apply. Don't wait for Halloween to apply!

Travel Awards are available for (1) students from the U.S.A./Canada*; (2) students from countries other than the U.S.A./Canada*; and (3) scientists from countries other than the U.S.A./Canada who wish to present their work or research at the Pacific Seabird Group's 2015 Annual Meeting in San Jose, Alaska, U.S.A. Travel awards are intended to partially defray the cost of attending the Meeting, but not to cover the entire expense of attending the meeting. In the past, Travel Awards have ranged from $200 to $1,000 (U.S. dollars), depending on the applicant's expenses for attending, availability of alternative travel support, quality of the abstract submitted for an oral or poster presentation, and the availability of funds for Pacific Seabird Group (PSG) to support travel to its Annual Meeting.

*Students may only receive one travel award over a three-year period (for PSG 2015, ineligible students would thus include those who received travel awards to attend PSG's annual meetings in Turtle Bay, Hawaii (2012), Portland, Oregon (2013), or Juneau, Alaska (2014).

Persons who wish to apply for Travel Awards should submit application materials online when they register via RegOnline, no later than 31 October 2014. Note that this deadline is before the regular abstract submittal deadline. We do this so that the PSG Awards Committee has ample time to select and notify awardees, well in advance of when they need to make travel arrangements. You do not have to pay registration at this time, but you do need to submit your abstract.

What is a Student? PSG defines a student as an undergraduate or graduate who was enrolled full-time during the quarter or semester immediately preceding the annual meeting. Post-doctoral fellows are not eligible for student membership registration rate or for student travel (or presentation) awards.

To apply for a travel award, please tell us in 250 words or less why you deserve this travel award from PSG. Additionally, three criteria must be met to be considered for a travel award; you must: 1) be a PSG member, 2) submit an abstract for a poster or oral presentation, and 3) agree to attend PSG's general membership Business Meeting. . .a brief (30 min) meeting held during the Annual Meeting. Come learn more about PSG.

For more information, please contact the past chair, Doug Forsell, at: DJForsell@aol.com

Thank you for applying for a PSG Travel Award!
Travel Awards are available in three categories:
Students from the US or Canada
Students not from the US or Canada
Scientists not from the US or Canada
In RegOnline, tick the box for which of the 3 categories you are applying.
---
PSG's 41st Annual Meeting held in Juneau, Alaska was extraordinarily successful!
Our sincere thanks to all who participated.
We appreciate generous donations by ABR Inc., North Pacific Research Board, School of Fisheries & Ocean Sciences, University of Alaska Fairbanks, Shell, ConocoPhillips, and Birdsmith Ecological Research in support of the 2014 PSG annual meeting in Juneau.
---
PSG's 2014 LIFETIME ACHIEVEMENT AWARD

2014 Lifetime Achievement Award Recipient
Anthony J. Gaston

PSG's SPECIAL ACHIEVEMENT AWARD

2014 Special Achievement Award Recipient
Vivian Mendenhall

Please visit the Lifetime Award webpage to read about their accomplishment as well as previous award winners.

---
ABSTRACTS FROM 2014 PSG ANNUAL MEETING
Abstracts of the 2014 Annual Meeting are available in pdf format (Abstracts)
Abstracts from previous meetings are printed in Pacific Seabirds

(back to top)