PSG's 41st Annual Meeting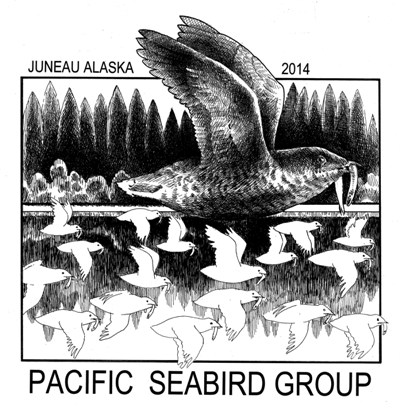 The PSG 2014 Local Committee
welcomes you to Juneau, Alaska!
February 19 – 22, 2014
Local Committee Co-chairs: Sadie Wright (sadie.wright@noaa.gov) and Yumi Arimitsu (marimitsu@usgs.gov).
The 2014 PSG image was created by Juneau resident and artist, Jim Fowler. This image will appear on t-shirts available for purchase online and at the meeting.
---
EARLY REGISTRATION IS OPEN UNTIL 16 DECEMBER 2013!
ABSTRACT CHANGES PERMITTED UNTIL 31 DECEMBER 2013!
This year, PSG will be using an on-line system for everything! To submit abstracts, register, purchase field trips, banquet tickets, and merchandise, click here to access RegOnLine (www.regonline.com/psg2014).

Authors that have submitted an abstract can still make changes to their abstract until 31 December 2013. Please login to the registration page and use the secure link sent to your email account to re-enter the registration pages. Select the Abstract and Travel Award heading at the top to find the abstract form. Changes after 31 December 2013 may not be reflected in the 2014 Scientific Program. If authors selected to "pay later," please re-enter the registration site using the email used for registration to make payment.
---
41ST ANNUAL MEETING IMPORTANT DEADLINES
• EARLY REGISTRATION ENDS 16 DECEMBER 2013
• HOTEL RESERVATIONS WITH PSG ROOM BLOCK ENDS 31 DECEMBER 2013
---
SCIENTIFIC PROGRAM:
Seabirds and Ecosystems
Abstract Submission Deadline: CLOSED
Author Notifications: before 16 December 2013 (early registration deadline)
2014 Plenary speakers - coming soon!

We are looking forward to a strong scientific program in Juneau! As in past years, the PSG Annual Meeting will include invited and contributed papers, including plenary speakers. We have five Special Paper Sessions for the 2014 meeting that include Arctic, Hawaiian, and Japanese and Korean seabirds and their ecosystems, as well as two applied topics - fisheries interactions and oiled bird rescue. Contributed sessions include topics familiar to PSG members such as 'breeding biology', 'conservation biology', and 'tracking & distribution'. We have included 'management, policy & planning' this year for seabird research that has this focus.

For the first time this year, PSG will use an on-line abstract submission! Please submit all abstracts using the PSG registration link and following the directions provided. You can submit your abstract with or without completing registration at this time, simply follow the instructions on-line.

See you in Alaska!

Jo Smith (Scientific Program Chair)
For information or questions on the scientific program, please email: programchair@pacificseabirdgroup.org 

Abstract Format
An abstract must conform to the following guidelines; abstracts will be returned to the author for revision if they do not.
English language

1,750 characters, with spaces (~250 words)

Maximum number of authors for abstract on-line is six (6). Additional authors can be added to presentations.

No pictures, tables, or graphs.

Include species names for all seabirds and other taxa. Place in parentheses after the common name

Contributed Sessions
Oral presentations will be grouped by topic; depending on the number of contributors, topics may be combined. We will do our best to accommodate authors' preferences for oral or poster presentations and session topics.
Behaviour; Breeding Biology; Climate Change; Conservation Biology; Contaminants & Marine Debris; Fisheries (see Special Paper Session); Foraging Ecology; Genetics; Management, Policy, and/or Planning; Non-breeding Biology; Physiology; Population Biology; Restoration & Eradication; Tools & Techniques; and Tracking & Distribution.
Special Paper Sessions (SPS)
We are excited to announce five Special Paper Sessions! Please note if a session is open (Open, Open and Invited) or invited before submitting your abstract. For Special Paper Sessions (SPS) that are open, select this if the topic is relevant to your study. Please send an email to the convener to let them know of your interest. Only select an invited SPS if you have already been in contact with the session chair; please see the below for descriptions of each SPS and the convener(s)
SPS1: Impacts of fisheries bycatch and derelict nets on Pacific marine birds (OPEN)
Convener: Doug Bertram (Environment Canada)
Email: douglas.bertram[at]dfo-mpo.gc.ca

Bycatch of marine birds from fisheries activities has recently gained significant attention as a worldwide conservation concern. Major advances have been made in reducing bird bycatch from long line fishing operations in marked contrast to gillnet fisheries, which are often on small scales with little or no observer coverage. Lost gillnets can become ghost nets that continue to catch and kill animals for many years unless the derelict net is removed. This session welcomes papers on all aspects of marine bird fisheries bycatch and derelict gillnets including mortality estimation, conservation, management, mitigation and governance.
SPS2: Arctic Seabird Ecology (OPEN)
Convener: Adrian Gall (ABR Inc. and University Alaska Fairbanks)
Email: agall[at]abrinc.com

The marine environment in the Arctic is changing at a rapid pace: it is losing sea ice, becoming more acidic, storm intensity is increasing, and oil and gas industries are renewing exploration activities offshore. The circumpolar arctic is seeing an increase in shipping traffic as a consequence of the reductions in sea ice. There is an urgent need to get and keep a finger on the pulse of seabird activity in light of these changes. This session will focus on seabird research north of 66°N, complementing efforts by National Ocean and Atmospheric Administration (NOAA) to synthesize information on biological resources in the Arctic (e.g., Synthesis of Arctic Research [SOAR], Distributed Biological Observatory [DBO]). Papers contributed to this special session should focus on the relationship between the arctic environment and seabirds or other birds that rely on marine resources. By sharing information on Pacific and Atlantic seabirds, we can gain a greater understanding of the ecosystem-level changes that are linked to changes in the physical environment.
SPS3: Conservation of Hawaiian Seabirds (INVITED)
Co-conveners: Megan Laut (US Fish and Wildlife Service), and Andre Raine (Division of Forestry and Wildlife/Pacific Cooperative Studies Unit)
Email: megan_laut[at]fws.gov, araine6[at]hawaii.edu

The Conservation of Hawaiian Seabirds Special Paper Session will give an overview of research and management of Hawaii's listed and non-listed species. The first segment will focus on the management of Newell's shearwater and Hawaiian petrel on Kauai, and will provide an overview of the island-wide Habitat Conservation Plan that is being developed to mitigate for the mortality of these species from lights and power lines. The second segment will be a broader session highlighting conservation work being undertaken on seabirds (not limited to endangered seabirds) throughout the main Hawaiian Islands.
SPS4: Oiled Seabird Rescue and Rehabilitation: Is it worth it? (INVITED AND OPEN)
Co-conveners: Kyra Mills-Parker (UC Davis) and Michael Ziccardi (UC Davis)
Email: kyparker[at]ucdavis.edu

In the past 50 years, oil spills have repeatedly been observed to be responsible (either directly or indirectly) for the killing of large numbers of seabirds. Invariably, however, each large spill that occurs often generates heated discussions within the scientific community regarding the validity of capturing and providing rehabilitative care to individual oiled animals. During this time period, there have been many improvements and successes in oiled bird care reported from the rehabilitation community, but the practice remains time-consuming, labor-intensive, and costly, and many believe that rescuing and rehabilitating impacted seabirds remains an exercise to appease the demanding public and has little conservation value at the population level. Scientifically valid research studies focused on how well species do in rehabilitation, as well as post-release monitoring studies that can assess the long-term effectiveness of this effort (e.g., post-release survival and successful reproduction) are necessary to appropriately address these questions, yet these publications remain scant and the information scattered. Therefore, this paper session will present a series of presentations synthesizing information on several benchmarks that can be used for assessing the value of rescue and rehabilitation of seabirds following an oil spill. This session welcomes papers that address post-release banding studies, tracking studies, and long-term impacts of spills on seabirds, including chronic oil pollution.
SPS5: Japanese and Korean Seabirds (INVITED AND OPEN)
Co-conveners: Kim Nelson (Oregon State University) and Kuniko Otsuki (Japanese Murrelet Population Survey Team)
Email: nelsonk[at]onid.orst.edu, boomam[at]sa2.so-net.ne.jp

The Japanese and Korean Seabird Special Paper Session will help highlight recent research on seabirds in Japan and Korea. Seabird research has increased dramatically in these two countries in recent years, with new data on a variety of species and increased awareness of conservation problems for seabirds on nesting colonies and at sea. After having a 2001 PSG-Japanese Seabird Group symposium on Japanese seabirds and the 2009 PSG meeting in Japan, it is important to continue to highlight our colleagues from the northwest Pacific region to encourage and support their studies, and educate the international seabird community about issues facing seabirds in Asia.
---
Early registration ends 16 December 2013.
Please register at the following link: RegOnLine (www.regonline.com/psg2014) as soon as possible to assist the Local Committee Co-Chairs with planning for the event. The conference will be held at the Centennial Hall in downtown Juneau, a convenient location to local hotels, restaurants, coffee shops and the waterfront.
Registration Costs for PSG 2014
Registration type

Early
9/3 to 12/16

Late
12/16 to 2/15

Member

$275

$325

Nonmember

$320

$370

Student member

$150

$200

Student nonmember

$175

$225

One-day participation

$125

$125

Full registration at meeting

---

$420
---

PSG's 2014 meeting will be held at the Centennial Hall in downtown Juneau, at 101 Egan Dr., Juneau, Alaska 99801. It is conveniently located within walking distance to hotels, coffee shops, restaurants and the waterfront. VERY IMPORTANT: Be sure to book your hotel early (see lodging information below)!

Downtown Juneau is wedged between steep mountains and the Gastineau Channel, which will make a truly dramatic setting for the 41st annual meeting of the Pacific Seabird Group. Juneau is the state capitol and population center of southeast Alaska, with about 31,000 year-round residents. Winter seabirds and waterfowl can be observed on the water right across from the Centennial Hall and in the nearby wetlands; the more adventurous birder will find Marbled Murrelets flying to the mountains above downtown just before dawn. In addition to the excellent scientific program that will be offered at this conference, meeting attendees will enjoy the unique nightlife in historic downtown Juneau, world class skiing at Eaglecrest ski area on Douglas Island, and ample opportunity to enjoy the beautiful Alaska wild on field trips before and after the conference.

Travel to and from Juneau
There is no road to Juneau, so you must make plans to arrive and depart by plane or boat. The Alaska Marine Highway System is an excellent way to get here (see Field Trip Information below)! Others will want to book a flight on Alaska Airlines (www.alaskaair.com), which is the only carrier serving Juneau. For Pacific Seabird Group attendees there is a 5% discount off any published Alaska Airlines fare between Juneau and any Alaska Airlines US or Canadian city using the e-certificate code ECMJ53. More information is available here.

Lodging information
We have reserved blocks of rooms in three downtown hotels for the meeting. The Goldbelt Hotel, Baranof Westmark Hotel, and Juneau Hotel are all offering us special rates and are walking distance to Centennial Hall. Each of these hotels also offers shuttle service to and from the airport, which is approximately 9 miles from downtown Juneau. The hotels will begin releasing any unreserved rooms by January 1, 2014 so it is a good idea to book your room early to lock in the special meeting rates. In addition to the hotels that have reserved blocks of rooms, there are several hotels and bed & breakfast inns that operate in downtown Juneau at a variety of price levels. Most of these are walking distance to Centennial Hall.

Please keep in mind that the Alaska State Legislature will be in session during our meeting. As a result, many of the rooms in downtown hotels will be reserved several months in advance to accommodate the out of town visitors associated with the session. If you hope to stay near Centennial Hall during the meeting, be sure to book your room as early as possible.

If you are unlucky enough to miss out on a room in downtown Juneau, there are several reasonably priced hotels located near the Juneau airport. Some of these hotels offer daily shuttle service to downtown Juneau, although the frequency of shuttles are determined by need.

Please book early to guarantee the PSG room rate and to ensure that you have a room - hotels in Juneau will be fully booked during this time of year. Make your hotel reservations before 20 December 2013.We highly recommend that you stay downtown near Centennial Hall, and book your hotel room EARLY!

Hotel Name

Price per Night

Airport Shuttle

Distance to Airport

Distance to Venue

Contact Info and Notes

Hotels with Reserved Blocks

$135

Yes

8.7 mi

1 block

(907) 586-6900; group no. 109422

$135

Yes

8.7 mi

0.4 mi

(800) 544-0970; good for 2 days before and after meeting; group code PASE021814

Juneau Hotel***

$99

Yes

8.7 mi

0.7 mi

(907) 586-5666; ask for Pacific Seabird group rate at booking

Other Downtown Hotels

$75-$105

Yes

8.5 mi

1 block

(907) 586-2280; kitchenettes and suites available

$129-$189

No

8.7 mi

0.4 mi

(888) 588-6507; limited availability – book early

Call for rate

Unknown

8.9 mi

2 blocks

(800) 331-2711; won't set rates until after summer

$209-$239

No

8.9 mi

0.4 mi

(907) 586-4146; upscale

$60-$120

No

8.9 mi

0.4 mi

(800) 327-9347; might be noisy

Airport Hotels

$109

Yes

0.5 mi

8.6 mi

(907) 789-5005; government rates

$97

Yes

0.7 mi

8.6 mi

(907) 789-4858

$109

Unknown

0.6 mi

8.6 mi.

(907) 500-7700; kitchens available

$119

Yes

0.6 mi

8.6 mi

(907) 790-6600
* Goldbelt Hotel will release 50% of remaining rooms on 12/20/2013, and all
of the remaining rooms on 1/19/2013.
** Baranof Hotel will release remaining rooms on 1/1/2014
*** Juneau Hotel will release remaining rooms on 1/13/2014
(back to top)
---
Eight fantastic field trips have been organized for meeting participants, starting on 15 February (before the meeting) and concluding on 23 February (after the meeting).
Alaska Marine Highway System (AMHS)
All AMHS trips must be booked by each individual traveler. Use their website or call AMHS at 1-800-642-0066 to purchase your ticket. When registering to attend PSG, indicate which field trips you are planning to participate in order that shuttle service to the ferry terminal can be arranged by the Local Committee. Low attendance AMHS field trip participants will need to arrange their own transportation to the ferry terminal.

Day Field Trips
Saturday, February 15: TENAKEE via Angoon—depart Juneau on the ferry M/V LeConte at 7am, rounding the north end of Admiralty Island, south down Chatham Strait to Angoon (the only town on Admiralty Island) for a half hour stop, before heading west into Tenakee Inlet in Chichagof Island to Tenakee for a half hour stop, and return to Juneau at 8pm. Alcids, gulls, and sea ducks are likely to be observed along this route, as well as marine mammals such as humpback whales and Steller sea lions. Ferry ticket = $103.

Tuesday, February 18: PELICAN—depart Juneau on the ferry M/V LeConte at 7am, rounding the north end of Admiralty Island, through Icy Strait (passing the entrance to Glacier Bay), spend two hours in Pelican, and return to Juneau at 11pm (map). Alcids, gulls, and seaducks are likely to be observed along this route, as well as marine mammals such as humpback whales and Steller sea lions. Ferry ticket = $100.

Wednesday, February 19: GUSTAVUS via Hoonah—depart Juneau on the ferry M/V LeConte at 7am, rounding the north end of Admiralty Island, through Icy Strait, stopping in Hoonah for an hour, and then to Gustavus for an hour, returning to Juneau at 6:30pm. Alcids, gulls, and seaducks are likely to be observed along this route, as well as marine mammals such as humpback whales and Steller sea lions. Ferry ticket = $66.

Sunday, February 23: SKAGWAY via Haines—depart Juneau on the ferry M/V LeConte at 7am, head north up Lynn Canal to Haines for a half hour stop, before continuing further north to Skagway, returning south to Haines for an hour stop, and back to Juneau at 8:30pm. Another option is to get off the ferry in Haines at noon, and get back on the southbound ferry when it returns at 3pm. Alcids, gulls, and seaducks are likely to be observed along this route, as well as marine mammals such as humpback whales and Steller sea lions. Ferry ticket = $100.

Sunday, February 23: SITKA (oneway)—depart Juneau on the ferry M/V Taku at 1am (leave straight from the banquet?), rounding the north end of Admiralty Island in the dark, through Icy Strait, stopping in Hoonah for 45 minutes at 4:15am, before heading south down Chatham Strait, through Peril Strait and the narrows between Baranof and Chichagof Island to arrive in Sitka at 4pm. You may choose to fly home from Sitka—Alaska Airlines flies to Sitka. Alcids, gulls, and seaducks are likely to be observed along this route, as well as marine mammals such as humpback whales and Steller sea lions. Ferry ticket = $45.

Monday, February 24: GUSTAVUS via Hoonah—depart Juneau on the ferry M/V LeConte at 7am, rounding the north end of Admiralty Island, through Icy Strait, stopping in Hoonah for an hour, and then to Gustavus for an hour, returning to Juneau at 6:30pm. Alcids, gulls, and sea ducks are likely to be observed along this route, as well as marine mammals such as humpback whales and Steller sea lions. Ferry ticket = $66.

Extended Field Trip/Transportation to Juneau
February 14-February 17: BELLINGHAM to Juneau—Travel from Washington State to Juneau through the marine waters of British Columbia and the Inside Passage of Southeast Alaska. With stops in Ketchikan, Petersburg, and Wrangell, the M/V Malaspina will arrive in Juneau at 8:15am on February 17, two days before the PSG meeting begins. It is possible to reserve a stateroom aboard the ferry, but some people prefer to unroll a sleeping bag and thermarest in the Solarium or in one of the indoor rooms. Ferry ticket (oneway) = $326.

Bus Sightseeing/Birding Trip
Sunday, February 23: A 6-hour bus trip to all the best Juneau birding sites on the road system, potentially including stops at the Mendenhall Glacier, Eagle Beach, and the Mendenhall Wetlands. This trip is under development and more details will be available soon.
(back to top)
---
The Pacific Seabird Group (PSG) strives to encourage high-quality seabird research, and for graduate students, the PSG provides invaluable professional development experience in scientific communication, as well as access to expertise, advice and mentorship, and future opportunities. Our student members have traveled to PSG meetings from China, Canada, Mexico, South America, Russia, Japan, Australia, New Zealand, the USA, and Europe. Each year the PSG student membership holds a silent auction to help fund student travel to the annual Pacific Seabird Group meetings, and depending on the amount raised, we are able to provide money for 8-15% of the students that apply for travel funding. Donations primarily come from members, but can also come from a number of other sources (e.g., individual, retail, other organizations).

Suitable donations for the silent auction include (but are not limited to) items such as:
Photographs, posters, paintings, drawings or other art depicting seabirds, nature scenes, or by local artists

Books on seabirds or nature or from local authors

Outdoor gear (raingear, sleeping bags, tents, other camping gear)

Outdoor equipment (binoculars, waterproof paper, clipboards, notebooks)

Other - use your imagination!

To donate something to our auction, please contact Sarah Thomsen (PSG student rep), sthomsen@sfu.ca. Thank you for supporting our student members!
(back to top)
---
Deadline:15 November 2013
Notifications: Delayed to 13 December 2013

Travel awards available to presenters that are Students1 from the US or Canada, Students1 not from US or Canada, and Scientists not from US or Canada. To apply for a travel award, please tell us in 250 words or less (1,750 characters, with spaces) why you deserve this travel award from PSG. Additionally, three criteria must be met to be considered for a travel award; you must:
Be a PSG member

Submit an abstract for a poster or oral presentation, and

Agree to attend PSG's general membership Business Meeting – a brief (30 min) meeting held during the Annual Meeting so you can learn more about PSG.
Requests for Travel Awards need to be submitted online using the RegOnLine (RegOnLine.com/psg2014).

Thank you for applying for a PSG Travel Award!

1Students may only receive one travel award over a three-year period (for PSG 2014, ineligible students would include those who received travel awards to attend PSG's Annual Meetings in Long Beach, CA (2010), Victoria, BC (2010), or Turtle Bay, HI (2012) , or Portland, Oregon (2013). [Clarification: For students that received the waiver of the registration fee for the 2013 Portland meeting, this will not be considered when evaluating your eligibility for travel awards for the 2014 meeting in Juneau.]
(back to top)
---

PSG's LIFETIME ACHIEVEMENT AWARD

PSG's 2013 Lifetime Achievement Award Recipient:
Malcolm Coulter

2014 Lifetime Achievement Award Recipient
More information coming soon!

PSG's SPECIAL ACHIEVEMENT AWARD

2014 Special Achievement Award Recipient
More information coming soon!

Please visit the Lifetime Award webpage to read about Malcolm's Achievements and previous award winners.

---
ABSTRACTS FROM 2013 PSG ANNUAL MEETING
Abstracts of the 2013 Annual Meeting are available in pdf format (Abstracts)

(back to top)