At the Annual Meeting, a Silent Auction is held to raise funds for student travel awards!  This event started more than a decade ago and has been a great success, raising money to assist more than a hundred students to attend and present their work at the annual meeting. It is a great honor to receive a travel award and for many students, this is the first time they have presented their research to a scientific audience.
Popular auction items that you can donate include seabird artwork, photographs, crafts, books and field guides, t-shirts, field gear, and any interesting seabird memorabilia. The key to the auction's success is for folks to bid often and generously on the items displayed during the annual meeting!  Besides the great selection, it's about helping students develop their professional careers! PSG is a registered 501 (c)(3) and offers tax receipts for all donations.
If you have something you would like to donate, or have questions, please contact the student representative, student_rep@pacificseabirdgroup.org.  Thanks very much for your continued support of PSG students!
THANK YOU to these individuals and organizations for their donations to the 2017 Silent Auction in Tacoma!
Bird Yarns
Che Frausto – Advance Wildlife Education
Ginger Rebstock
Jo Smith
Kate Goodenough
Lora Leschner
Mad River Decoys by Audubon
Michael E. Johns
Michelle Hester
Nathalie Hamel
NOAA Fisheries' Northwest Fisheries Science Center
Oregon Coast Aquarium
Peter Hodum
Puffin Pluckers Ukulele Band
Roberta Swift
Ron LeValley
Scilly Pelagics
SeaDoc Society
Tacoma Museum of Glass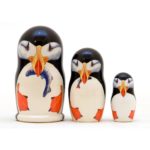 Sample Silent Auction item – puffin nesting dolls