2017 PLENARY SPEAKER: Thursday, 23 Feb 2017 at 9 AM
Dee Boersma, PhD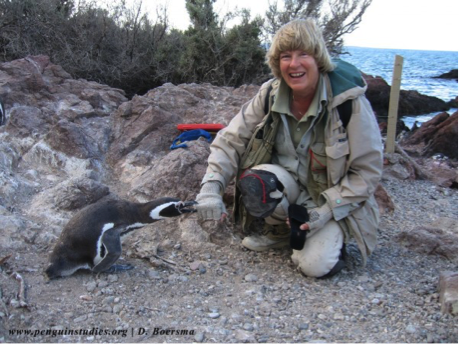 Dr. P. Dee Boersma is the Wadsworth Endowed Chair in Conservation Science in the University of Washington's Department of Biology. Her interest is in seabirds as reflectors and indicators of environmental change. Her research started with research on Galápagos penguins and how they breeding biology was honed to the predictably unpredictable Galapagos upwelling. She worked on Fork-tailed Storm-Petrels in the Barren Islands, AK for more than a decade showing they ingested petroleum and could be used to reflected oil spills. These seabird's unusual breeding biology include an amazing tolerance to neglect. Eggs can hatch anywhere from 36 days to 72 days after they are laid and their incubation temperatures are among the lowest known for seabirds. She heads the Center for Penguins as Ocean Sentinels at the University of Washington and for 30 years has directed the Magellanic Penguin Project at Punta Tombo, Argentina, in her role as a scientific fellow for the Wildlife Conservation Society.
Dr. Boersma has served on numerous national and international leadership and advisory positions including as a Founder of the Global Penguin Society, member of the Board of Trustees of Central Michigan University, as an advisor to the United States Delegation to the United Nations World Population Conference in Romania, as a member of President Nixon's Task Force of Women's Rights and Responsibilities, and as a member of the Board of Directors of Zero Population Growth. Professor Boersma was associate director of the Institute for Environmental Studies from 1987-1993 and Acting Chair of Biology 2005-2006.  Download Plenary Abstract
2017 PLENARY SPEAKER: Friday, 24 Feb 2017 at 8:30 AM
George Divoky, PhD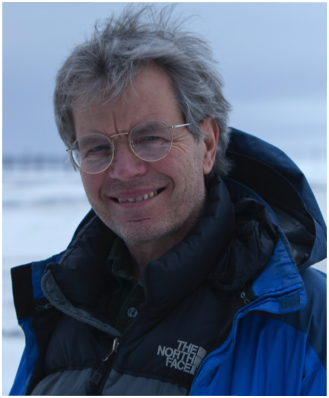 Dr. George Divoky has studied Alaskan seabirds since 1970 when, as a Research Associate for the Smithsonian Institution, he censused marine birds and mammals in the Beaufort Sea adjacent to Prudhoe Bay. In 1975, as part of an environmental studies conducted in areas being considered for oil and gas leasing, he began a study of Mandt's Black Guillemots, on Cooper Island, 35 km east of Point Barrow, Alaska.   The 42 years of research on the colony's breeding biology and feeding ecology provided some of the first examples of the biological consequences of snow and sea ice reductions in the Arctic. Divoky has also worked for federal and state agencies on a range of Alaskan seabird management and conservation issues including the Alaska Native Land Claims Settlement Act, oil and gas exploration of the outer continental shelf, oil spill damage assessment and restoration, and regional climate change. He is currently Director of Friends of Cooper Island, a Seattle-based nonprofit organization working to continue the research on Cooper Island and provide its findings to the scientific community and public.
Divoky's research on Cooper Island has been featured in the New York Times Magazine and has received national media attention as an example of Arctic climate change. He has appeared on The Late Show with David Letterman and his research and experiences on Cooper Island were featured in Greenland, a play about climate change staged by the Royal National Theatre in London in 2011. Divoky received his Bachelor's and Master's degrees from Michigan State University and a doctorate from the University of Alaska Fairbanks. In the early 1970s he was one of the founders of the Pacific Seabird Group. Download Plenary Abstract